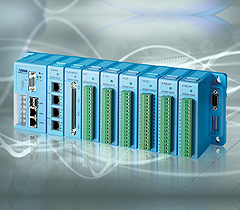 Amplicon, the provider of connected computer-based measurement and automation systems, has today introduced a PAC (Programmable Automation Controller), to complement its extensive measurement and control range. Designed for use in the automation of industrial process, such as controlling machinery on factory assembly lines, the ADAM-5550KW will provide the customer with a complete solution for automation.
The ADAM-5550KW PAC is designed to fulfil several functions in one device. It operates as a PLC (Programmable Logic Controller) with a digital I/O capable of logic operation within 1 millisecond, a PID (Proportional Integral Derivative) controller using fast analogue inputs and outputs to control a process loop, and has motion control functions. Before the ADAM-5550KW, three separate devices were required to perform these functions. In order to achieve this the ADAM-5550KW PAC has an embedded processor and RAM, along with Compact Flash and no fans to improve reliability.
The ADAM-5550KW utilises Windows CE or XPe, but also runs a real time operating system called ProconOS. This performs logic and analogue control processing and in the event of a Windows CE crash, the real time OS will continue to operate. The ADAM-5550KW also provides a VGA output and USB port and is easily programmable as it uses the industry standard programming language, IEC 61131-3. The ADAM-5550KW can either operate on its own or connected to a SCADA package via Ethernet.
John Hayward, Product Manager of the Measurement and Control group at Amplicon commented, "The primary reason for adding the PAC to Amplicon's range is to give customers even more choice in the deployment of their applications and to provide a complete solution. The PAC performs many functions in one and as such is a valuable and useful piece of kit."
19.11.2007