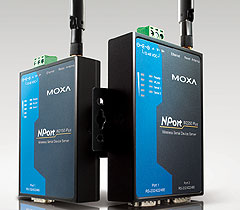 Amplicon has recently released the NPort W2150+ and NPort W2250+, the world's first wireless device servers to support all three mainstream wireless standards, namely, 802.11a, 802.11b and 802.11g.
Wireless device servers allow serial (RS232, RS422 and RS485) devices such as bar code scanners, PLCs and sensors to connect to a wireless network allowing mobility and cable free operation of the end devices. As both versions of the wireless servers support 802.11a, the W2150+ and W2250+ can operate in either the 2.4GHz and 5GHz bands. 802.11 is a robust standard but operation in the 5GHz band can provide extra level of resiliance to the data link, in environments where much of 2.4GHz spectrum is already being used by other devices.
The W2150+ and W2250+ provide 1 and 2 selectable serial ports respectively. They can connect directly to each other in wireless 'ad-hoc' mode providing a similar solution to a pair of radio modems. Alternatively, they can connect directly to access points in 'infrastructure' mode which is useful in adding serial devices to existing wireless networks. To ensure a secure connection, tthe NPort W2150+ and W2250+ support WEP, WPA and WPA2 encryption standards and optional SSL encryption provides end-to-end security of transmitted serial data.
The ability to move or 'roam' between access points can be managed on the W2150+ and W2250+ using profiles with different 'connection rules'. This. is a particular desirable solution for wireless communications to cranes, forklifts and moving gantries which can roam based on signal strength or priority.
If the wireless connection goes down, the W2150+ and W2250+ are designed to continue operating, with serial data saved in an integral 10MB port buffer. The data will be transmitted once the wireless connection is restored. This is an important feature for mission-critical applications where data cannot be lost. Troubleshooting is also made easier through the serial data log feature.
David Evans, Data Communications Product Manager commented, "The recently launched 'plus' versions of the W2150 and W2250 are the most innovative products we have seen for a long time. They include more than ten new features that are of real value to our customers.
Wireless networks are inherently less predictable than their wired counterparts but with features such as 802.11a support and port buffering, there is now a very compelling argument for wireless enabling RS232 and RS485 equipment."
These additions to Amplicon's range indicates its continued investment in top quality, industry leading products in order to position its customers at the cutting edge of technology.
03.10.2007