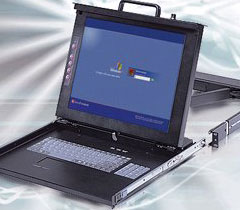 Amplicon has enhanced the versatility of the KwikDraw industrial monitor family with the introduction of the new KwikDraw-B series.
The KwikDraw-B series supercedes the KwikDraw series, offering a multi-function 15, 17 or 19-inch cascadable rackmount monitor, keyboard, touchpad and 1, 8 or 16-port KVM in a 1U 19-inch rack space. Greater flexibility is provided with three new model options: touchpad keyboard only models; monitor only models; and monitor and touchpad keyboard models.
Providing an ideal solution for network administrators who need to control multiple systems, the KwikDraw-B Monitor and Keyboard option comprises a robust industrial design that combines display and touchpad keyboard to provide a user-friendly interface. In addition, a built in KVM switch enables easy access of up to 16 systems from one KwikDraw-B unit and 128 systems via cascading additional KVM switches.
Series features and benefits:
• 1U 19-inch sliding rackmount enclosure
• 15 or 17-inch TFT LCD with touchscreen option for 'Monitor only' models
• 15, 17 or 19-inch TFT LCD for 'Monitor and Keyboard' models
• LCD resolution of up to 1920 x 1440
• High quality keyboard and touchpad
• Secure 1U lockable rackmount unit
KwikDraw-B products come with UK (QWERTY) keyboards and PS/2 connectors as standard. Non-standard versions including other language keyboards, USB port and DVI port connectors are available.
12.01.2007