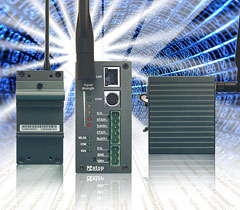 Amplicon is pleased to announce the SW5001, 'next generation' protocol selectable serial-to-WLAN gateway. The SW5001 builds on the success of its predecessor, the GW51W-MAXI, offering improved functionality, greater ease-of-use and additional security features.
The SW5001 provides an 802.11b/g wireless gateway for RS232, RS422 and RS485 devices. Comprising a rugged metal IP50 rated enclosure, signal strength LED indicators, DIN rail mounting and 9-30V DC operation (via screw terminal block), the SW5001 is ideally suited for industrial applications where traditional serial cabling is not practical, not possible or is cost prohibitive.
To address engineers' security concerns, the SW5001 provides 64-bit or 128-bit WEP encryption and is one of the first wireless device servers available to offer full WPA security – the most secure commercially available wireless encryption method.
When making serial connections, the Mini-DIN connector with DB9 flying lead offers an industry-standard RS232 interface. For more secure connections a screw terminal block connector can be used. The SW5001 also ships with a high-gain 4dBi antenna as standard. This can be upgraded or replaced with different antenna using an industry standard RSMA antenna connector.
Flexible configuration options enable the SW5001 to be remotely set up over the network using telnet or the web browser interface. The modes of operation have also been improved: 'Infrastructure Mode' allows the unit to connect to an existing wireless LAN through an access point; and 'Ad Hoc Mode' allows the units to be used in pairs. Put simply: what goes in one end comes out of the other.
05.01.2007