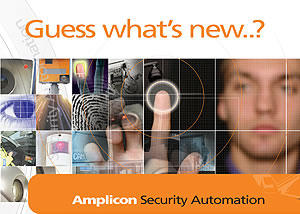 Amplicon has launched its new Security Automation Division and revealed that it has already won the company's biggest contract since the management buy-out eighteen months ago.
The new business division, the first major expansion for the company since the introduction of Industrial PCs almost a decade ago, has been formed to serve the requirements of system integrators and OEMs operating in the professional security market. A comprehensive range of automation hardware backed by extensive technical knowledge allows Amplicon to proactively support companies working in ANPR (Automatic Number Plate Recognition), IP surveillance, CCTV and many other security applications.
The recently won ANPR contract has also allowed Amplicon to capitalise on their success and they are now in final negotiations with system integrators for rail security projects in both Canada and France.
The new division represents a significant investment for the Brighton-based company both in terms of finance and staffing requirement, with an additional four sales engineers being actively recruited. Commercial Director of Amplicon, Gina Citroni has set the new division a first year sales target of £1,000,000.
"It's an ambitious goal for us but this is an exciting progression for Amplicon in terms of capability and technical expertise and we wouldn't be entering the market if we didn't feel we had something of real value to offer," commented Citroni. "We've already secured a fabulous contract which reflects the potential of our capabilities."
Amplicon can already draw on experience in the security market, selling components to integrators and OEMs. The new division will focus on a 'total solutions' approach with a strong consultative sales initiative designed to educate the market about Amplicon's comprehensive offer.
Existing competencies in Industrial PC manufacture and Industrial network design will be combined with a new IP video capability to form an all encompassing hardware portfolio. Free consultancy and free product evaluations will give customers a unique level of service, allowing a risk-free adoption of new systems and technologies.
Successes in ANPR applications and the provision of customised DVR platforms have been a catalyst for Amplicon to create the new division, which will be accompanied by a new website and sales team.
27.10.2008