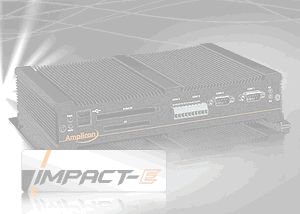 Amplicon will exhibit at Electronica 2006 showcasing its new Security Automation division and two new industrial computer ranges, Ventrix-W and Impact-E. Located on Stand 746 in Hall A6, the Brighton-based manufacturer and distributor has chosen Electronica to launch the exciting next step in the company's development to the public after a press launch in October.
Ventrix-W: The Ventrix range of rackmount industrial computers is the flagship of the Amplicon range, based on PICMG compliant single board computers (SBCs) and backplanes. This architecture provides excellent expansion capabilities with a guaranteed product-life of five years. The new Ventrix Workstation (W) range comprises 4U PICMG 1.3 compliant SBC-based rackmount industrial computers constructed from heavy duty cold-rolled electroplated steel. The new range boasts new features which include, 83/84 key sliding keyboards with integrated track and two mouse buttons, and the flat multi-media 6.4" TFT LCD with 680x480 resolution.
Impact-E: The Impact industrial computers incorporate industrial motherboards to offer the consistency in compatibility and revision control normally associated with SBCs. The new Impact-E range has a small, compact and fanless rugged design, ideally suited to a variety of embedded applications. Powered by Intel processors, these computers provide the performance necessary for high speed and intensive tasks. Manufactured from selected high-quality industrial components, the Impact-E series is an ideal cost-effective solution for use in harsh environments and critical 24/7 operation.
Throughout Electronica senior management and product managers from both Amplicon and its International distribution network will be on hand to answer all queries and specification enquiries. Commercial Director Gina Citroni spoke before the show:

23.10.2006