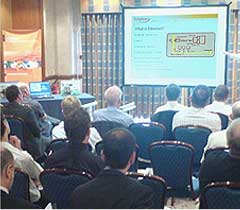 On 5th October 2006, Amplicon held a seminar focussing on new technologies, in Basingstoke. Delegates were invited from across the UK to hear about the latest developments in industrial PCs, communications and data acquisition, and how IP based equipment can be used in industrial applications
Delegates were able to learn about the benefit of using Industrial Ethernet as a communication network, and to gain an understanding of the basics of IP (Internet Protocol). As the day progressed, David Evans, Product Manager for Industrial Communications, discussed wireless LAN connectivity and its application. This was followed by a demonstration on how to use GSM/ GPRS for Ethernet communications.
Other topics discussed during the day included "Active I/O" which is the latest innovative development from Moxa. It generates a UDP or TCP message when an input condition is met. This means that the data acquisition input device sends information to the host PC much faster than traditional I/O. The ioLogik 2000 with Active I/O also has the ability to generate SNMP traps for customers using SNMP software, or it can generate an email to advise you when input conditions are met.
To complete the seminar, Leon Mengot, Product Manager for Industrial Computers talked about the developments in Industrial PCs including the latest in Embedded computing. The combination of topics gave attendees a broad understanding of Amplicon's capability in the field of Industrial Automation, and a better understanding of these leading edge products and technologies.
John Hayward - Product Manager for Measurement and Control commented

16.10.2006