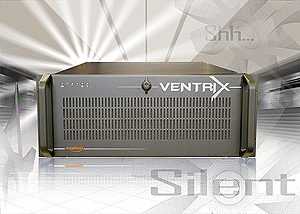 Amplicon introduce the Quiet Fan Option for it's popular Ventrix 4000 series
Reducing the sound level of an industrial computer system, whilst maintaining the effectiveness of the cooling system is not an easy task. Many DC fans are marketed as "quiet", but provide very little airflow. Maintaining optimum airflow whilst reducing noise levels must be achieved through blade and bearing design. An effective optimised air-cooling system will never be silent, but sound levels can typically be reduced to a comfortable level of less than 39dBA.
The distinctions between industrial and domestic computers are quite major and are often unappreciated. This year's hot summer proved too much for many standard computers, with the national news reporting how many systems had fallen over. If this performance were mirrored by industrial computers the results would have been catastrophic. Most computer cooling solutions are designed for the desktop and gaming markets and are far from suitable for an industrial computer.
Industrial systems must maintain reliable 24/7 operation and achieve an MTBF greater than 15,000 hrs. As they rely upon forced-air cooling, the fans must pull large volumes of air through the system to cool critical components. The effectiveness of the fans must also keep things cool, when running at ambient temperatures between 40 - 50°C.
Amplicon manufacture their own rackmount computer systems under the names Ventrix, Impact-R and Impact. Their experience, expertise and knowledge enables them to build reliable rackmount computer systems for use in the most challenging of industrial environments. As a leading industrial computing specialist, they also offer a range of versatile rack cabinets to house these rackmount computer systems. As more companies realise the benefits of industrial computers over standard desktop systems, the traditional sound levels of industrial products are becoming unacceptable.
Richard Cobden, Amplicon's Engineering Manager commented 'This is another step forward for us in our drive to produce the best robust, reliable and repeatable systems. It provides our customers with greater choice whilst not compromising on quality'
02.10.2006