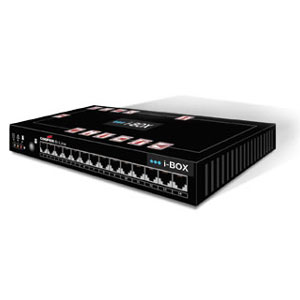 Amplicon manufacture their own rackmount computer systems under the names Ventrix, Impact-R and Impact. Their experience, expertise and knowledge enables them to build reliable rackmount computer systems for use in the most challenging of industrial environments. As a leading industrial computing specialist, they also offer a range of versatile rack cabinets to house these rackmount computer systems. To complement their rack cabinet range with a compact and totally integrated security solution, they now present the i-BOX.
Continuous system availability is critical in today's business environment. The challenges rack solution providers face are even more demanding when providing mission critical solutions. Amplicon recognises these challenges and as a leading provider of rack solutions they now provide a small, compact, totally integrated and scalable security solution which ultimately provides the necessary optimum security additions to complement their offered rack cabinets.
.
The i-BOX: A totally integrated rack solution for the security of mission critical applications. An online system which can initiate immediate security deployment. A scalable system that offers flexible and remote access control. This controls the validation and thermal analysis of the rack design to challenge thermal issues and rising heat densities now and in the future. The maintenance of a stable environment whilst delivering pro-active management of IT equipment in the rack. The ability to monitor rack power requirement. 24/7 IP based management for LAN/WAN. This monitoring and control is done using six modules in one small, compact and totally integrated security solution, the i-BOX.
Enclosure - Monitors the provision of a totally integrated rack solution. Event logging of all IT equipment in the rack.
Security - Security deployment with preconfigured "on event" actions to trigger alarms or emails. The ability to implement visual communication by adding remotely monitored cameras.
Thermal - Analysing and monitoring the rack. Designed to challenge thermal issues. Provides a high density cooling system and controls the operation of efficient cooling fans in the rack.
Environmental - Pro-actively managing IT equipment in the rack by monitoring the temperature, humidity, flood and hot spots in the rack. Thus keeping environmental conditions to within required threshold levels.
Power - The system can be configured, adapted and retro-fitted to the rack, monitoring the power requirement along with UPS solutions and remote managed power supply.
Remote Monitoring
- 24/7 IP based remote monitoring software, offering un-rivalled global management of rack security for multiple locations from a central or single site
18.09.2006