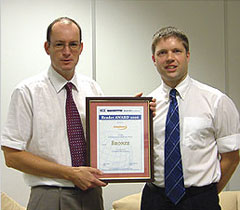 Embedded Control Europe magazine have presented Amplicon with a reader Bronze award for "one of the most interesting new products in the first half of 2006" in the I/O and Data Acquisition category.
The 500kS/s data acquisition boards from Amplicon were voted into the top three most interesting products to the readership of ECE magazine who receive an email newsletter, magazine or visit their web site.
'This is a major achievement for our own brand range. We have worked hard to produce a product that our customers will find both exciting and functional; and it looks as if we have got it right!' commented John Hayward product manager for measurement & control group.
The PCI 230+ and PCI 260+ cards have been upgraded and the sampling speed is now doubled, as well as additional improvements to functionality including true differential inputs, advanced triggering, and waveform generation outputs on the PCI 230+.
08.09.2006