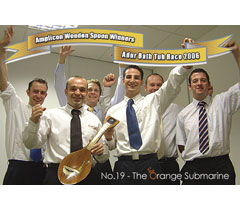 This year Amplicon entered the local Adur Bath Tub Race. The race is held annually by the local Round Table and all sponsorship goes to local charities
Our magnificent entry, the aptly named 'Orange Submarine', took its maiden voyage, and despite sinking twice at the start they managed to finish the race in an astounding 2.5 hours and came a very honourable last!
Yes folks, this year Amplicon are the proud winners of the Adur Bathtub wooden spoon! The award will be taking pride of place in our display cabinet, and I think we can all be very proud of their efforts and the prize they have brought home to Amplicon!
Next year we look forward to seeing 'Orange Submarine - The Revenge' in action and hopefully a much improved position can be achieved!
23.08.2006