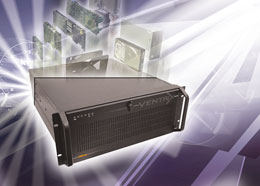 Amplicon manufacture their own industrial computer range under the names Ventrix, Impact-R and Impact. Amplicon industrial computers have built up a loyal customer base over the years, who are pleased with the quality, flexibility, scalability and value for money they receive. Amplicon's experience, expertise and knowledge enables them to build reliable industrial computers, for use in the most challenging of industrial environments.
The Ventrix range of rackmount industrial computers are the flagships of their range and are based upon PICMG compliant single board computers (SBCs) and backplanes. This architecture provides excellent expansion capabilities with a product life of at least five years.
Amplicon are now expanding the Ventrix range with the introduction of the new Ventrix 4004. This 4U rackmount SBC based industrial computer is PICMG 1.3 compliant, provides PCI express (PCIe) expansion, uses the latest Intel Pentium D Dual-Core LGA775 technology and has a high quality industrial grade 600W power supply unit (PSU). It also comes with a 250GB HDD as standard and is electroplated for long term protection against corrosion.
The Ventrix 4004 system is ideal for high speed data / video capture and analysis. The platform incorporates the Intel 945G/ICH7 chipset and the Intel Pentium D processor Hyper-Threading technology to deliver innovative features and new benefits for industrial computer systems. This system is Windows Vista capable.
System features and benefits:
The LGA775 socket with 1066/800 MHz system bus providing scalability for future processor innovations;
PCIe x16 delivering more than 3.5 x the bandwidth of the traditional AGP 8X interface and supports a range of latest high-performance graphics cards;
PCIe x1 offering up to 3.5 x the bandwidth of traditional PCI architecture, delivering faster access to peripheral and networking devices;
Intel Storage Matrix technology providing protection against data loss from a hard drive failure, and quicker access to digital photo, video, and music files by supporting native command queuing (NCQ) as well as RAID 0, 1, 5, and 10;
Dual Gigabit Ethernet LAN;
Dual-channel DDR2 memory support with up to 4GB memory.
21.08.2006