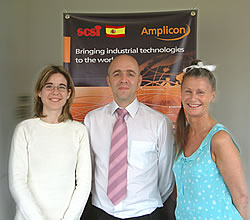 Amplicon UK are delighted to announce the signing of a new distribution agreement with Spanish computer company Anacomp-SCSI, further strengthening their European distribution ambitions and providing quality industrial computing products to customers across Spain and the Iberian peninsula.
Anacomp-SCSI, a well-established multi-vendor solutions provider, will offer a range of support packages for amplicon's Industrial PC's that are traditionally available only at the top end of the server industry. Being already greatly experienced in sales and support services for high-end industrial products, this is a natural development for their business.
Amplicon continues its strategy of appointing value-adding distributors throughout Europe. "With Anacomp-SCSI's network of skilled technicians and vast experience of both the PC and Industrial markets, we view this key appointment as being very much in line with our long term goal to become Europe's leading Industrial computer manufacturer." commented Douglas Saunders, International Sales Manager.
Peter Christie from Anacomp-SCSI stated "With Amplicon's support and superb range of products, we can now offer superior quality industrial solutions to our existing and new customers, providing 24/7 coverage over the whole Iberian Peninsular, including the islands".
Gina Citroni, Amplicon's Commercial Director added "This appointment represents further cementing of our European distribution plans and we view Anacomp-SCSI as the perfect partner to drive our sales strategy in Spain".
This comes at a significant point in our overall strategic development and represents one giant leap forward for Amplicon.
12.06.2006