PCI & PCI Express serial cards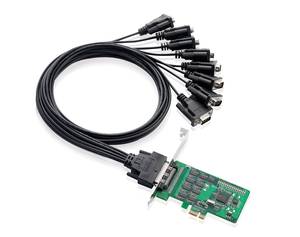 The PCI and PCI express cards you will find in this section can be used to connect hardware that uses RS232 or RS422/485 directly into a computer.
Our range of PCI and PCIe cards is capable of providing up to 8 serial ports in a single slot, potentially saving space for additional cards which may be connected later. These cards are a cost-effective choice when there is a requirement to control several RS232 devices but are unable to do so using the PC's COM ports.
Our serial boards are built for industrial applications and include models that can operate reliably in a wide temperature range.
In this section you will find a range of multiport serial cards from market leader Moxa.
Product Range