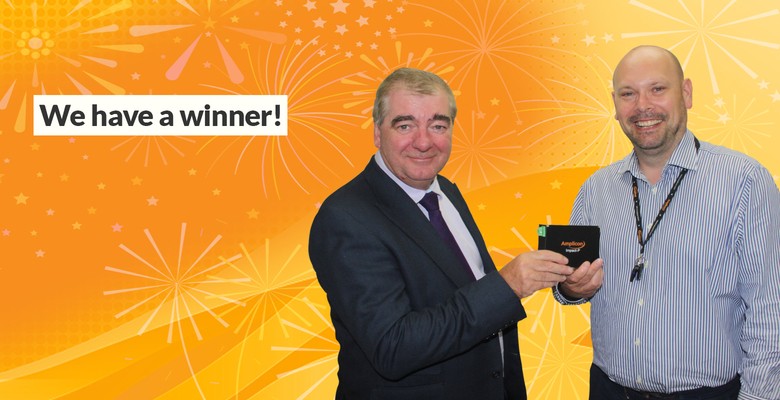 28th August 2020
Winner of the Amplicon Impact-P competition announced!
We are pleased to announce that the winner of the Amplicon Impact-P competition is...Garry Bellman from Delatim.
In addition, we would like to make a special mention to Stuart McConnel who submitted a very unique application that combined innovative thinking with a very good sense of humour!
We had a huge response and the quality of the entries impressed the panel of Amplicon technical specialists in charge of choosing the winner.
The winning entry and a selection of the application ideas for the Impact-P can be found below:
Garry Bellman - Winner:
"The Impact-P unit appeals to Delatim as it is a powerful, compact PC for which we as a company are looking to use on a number of UK rail rolling stock projects requiring fast processing of data.
Delatim would initially look to utilise this unit for train solution remote access, linking it to new and existing communication systems on board. Delatim would look to utilise and develop further functionalities of the Impact-P for analytical software, IO input/output of events and alarms. This is a great opportunity which Amplicon have provided to Delatim for development and the ability to provide real-time communication for the digital railway.
Delatim has UK rolling stock and station approved products built into their product/solution in house demo wall. The Impact-P will be a welcome addition to this, and the opportunity to display this unit to our wide range of clients within the rail industry."
Stuart McConnel - Special mention:
Humane cat deterrent (sentry cat squirter): Cats, while cute and funny, are often a nuisance, using anywhere they please as their own personal toilet, creating awful smells and spreading germs. Using a pan / tilt / zoom camera, this device will monitor an outdoor area and use computer vision (e.g., OpenCV) to detect motion and utilise a model trained by machine learning to determine if the detected object is a cat. If a cat is detected, a simpler, faster blob detection algorithm is used to track the perpetrator and drive the PTZ motors to point the camera directly at it, tracing its every move. However, also attached to this camera is a water squirting device capable of reaching targets several metres away. Whilst unlikely to be able to hit the fast and nimble subject with much more than a few drops of the watery payload, it will deliver a stern yet gentle and humane message that this area is not to be used as a toilet!
Seumas Maclaren, Atkins:
"An ideal fit for an Impact-P PC is as a 'Daq' edge device. Configured for buffering and forwarding data to an historian or a SCADA server in the Cloud from multiple difference field devices and PLCs requiring diverse hardware protocols. (i.e. as a compact SCADA data collector). This could also include use of an industry standard OPC server installed on the Impact-P for OPC UA secure access to/from the PLCs (Kepware, OPCDataHub, Matrikon OPC brands etc). In addition, a convenient messaging hub could be added such as Eclipse mosquitto for MQTT data to be collected from low cost publish/subscribe devices that can be added ad-hoc at no risk to the critical control and automation of the PLCs. This might be for additional sensors for cabinet temperature, vibration, or moisture ingress, in severe or physically remote environments which the Amplicon Impact P series hardware range is highly suited for. Such applications of this type of integration might include a windfarm panel; a remote borehole group with several pump controllers; a weather monitoring system controlling flood defence pumps; or the automation of a lighthouse. Or it could be the compact plant-floor integration of both legacy and modern PLCs on an upgraded production line for shop-floor data capture solution. The list is endless."
Robert IT Ltd, Intense IT ltd:
"In the world of COVID-19, there is an ever increasing need to detect the risks of infections in workplaces and public spaces. Many IOT devices can do this, from heat sensitive cameras, air quality monitors and devices which detect clusters of humans converging. To really address these risks and take preventative actions in real-time, an edge-compute device would be extremely powerful. Imagine a heat sensitive camera on a bus entry door, designed to detect people with elevated body heat. The camera is no good on its own - it requires compute power but the space and power requirements for such a device will be extremely limited. Your product could be that device."
Joe Fulford, Megahertz Ltd:
"This device is such good value that it makes sense to use it instead of a traditional serial over ethernet device for remote control. Because it's a PC we could build some intelligence into it meaning greater functionality and even redundancy. If the server end fails, this PC could continue with a failsafe protocol without any updates from the server. For example, we deploy antennas on the rooftops of tall buildings, and their controllers live in the machine room many floors below. We normally send serial control from a server in the machine room, over fibre or ethernet, to a serial extender on the roof which controls motors, amplifiers, power systems etc. With one of these we could incorporate additional monitoring through low cost USB or serial interfaces for temperature, wind speed etc. We could even plug in a webcam to allow visual monitoring of the antenna. If the connection between the server and the rooftop controller PC was broken, the rooftop controller could continue controlling the motors for inclined orbit tracking, scheduled repositioning etc and all the while recording data ready to be sent back to the main server when the connection is re-established."
Norman Terril, QinetiQ:
"The small industrial PC could be utilised in aircraft and maritime platforms where speed and agility is critical. It could also be used in space platforms - satellites systems and other space technology. I think it could be used in the control systems in unmanned vehicles, drones, maritime surface platforms and submersible platforms, etc. I think their maybe opportunities for the PC to also be utilised within the emergency services air helicopter ambulances, paramedics, RNLI, sea rescue, army military vehicles, tanks, etc."