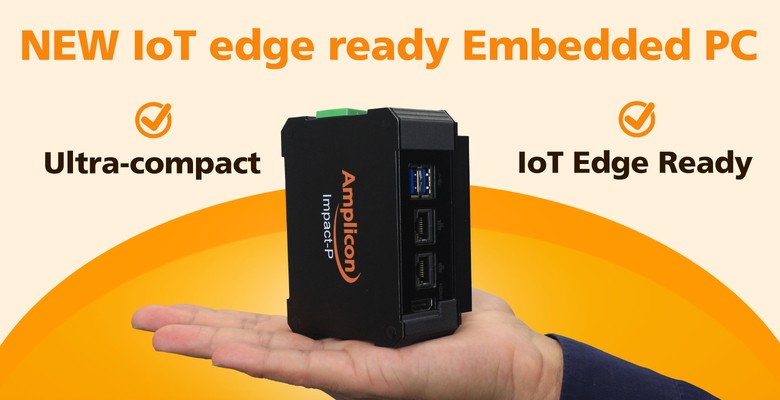 6th October 2022
Ultra-compact IoT edge ready embedded PC for any application
Amplicon has launched its latest fanless embedded PC, the new Impact-P 100A series.
Amplicon, the market leading UK manufacturer of industrial computers, has introduced the new Impact-P 100A series – an IoT edge ready embedded PC featuring Intel® ATOM™ processors.
The new Impact-P series is an ultra-compact fanless PC featuring a modern aluminium and carbon fibre composite chassis, with a wide temperature range, road-mapped components allowing for reliable performance in the harshest of environments.
In addition to an impressive operating temperature ranging from -40°C to +85°C, the new system comes with both Cellular and Wi-Fi connectivity, making it the perfect embedded solution for transferring data from the edge to the Cloud in any IoT environment.
Powered by the superb Intel® ATOM™ Apollo Lake processor, the Impact-P provides 4K immersive graphics and fast video acceleration, making it an exceptional solution for the most demanding media output tasks, including process control display, in-vehicle usage or on-board entertainment.
The new compact and powerful embedded computer has been designed to suit limited space installations, featuring an ultra-light weight of 400grams and a small 110W x 56.8H x 80.5D mm foot-print.
The Impact-P 100A series also features rich expansion and connectivity functions including two USB 3.0, two RJ45 LAN, one HDMI, one M.2 E-Key 2230 slot and one full size mPCIe for Wi-Fi or 4G wireless communication needs.
Joe Davies, Senior Product Specialist at Amplicon commented "Amplicon has designed the Impact-P 100A series to meet and exceed the challenges of computing right at the edge in the harshest of environments. This fully customisable and rugged unit is the ideal solution to a wide range of applications, all in an ultra-small form factor."