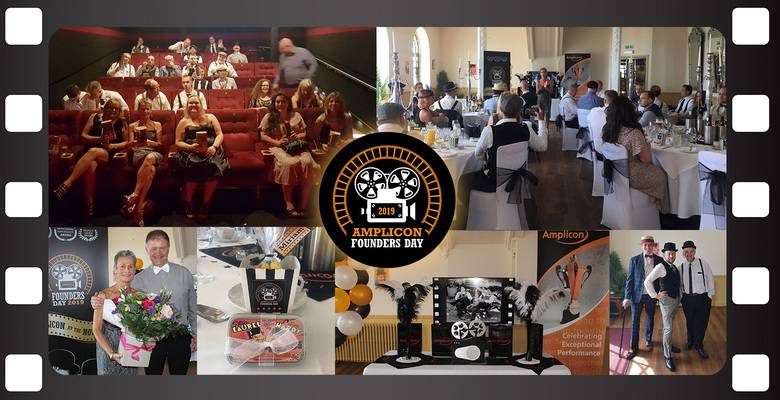 12th August 2019
Founders Day 2019 – Amplicon at the Movies!
This year, the event was a 1920's theme entitled 'Amplicon at The Movies', with the central event being a private showing of the recent film 'Stan & Ollie'. The Amplicon Marketing team turned the room into a spectacular dining area fit for our very own Oscar ceremony.
The day began with our CEO Gina Citroni announcing the five nominees to win one of the Amplicon Oscars awards. Each nominee went home with a selection of prizes which included an Amplicon shield, a personalised silver platter, a certificate and a gift voucher with money to be spent from a selection of high street shops.
Team Amplicon then had a private screening of the movie Stan & Ollie. The film, which was shot entirely in England, features a scene in the Worthing area perfectly matching the theme of the afternoon.
This was followed by a delicious meal with champagne, wine and beer. The afternoon finished with an inter-table quiz based upon different movies, with the winners who had a near perfect score winning cinema tickets for the Dome Cinema.
Team Amplicon are already looking forward to next year's Founders Day.