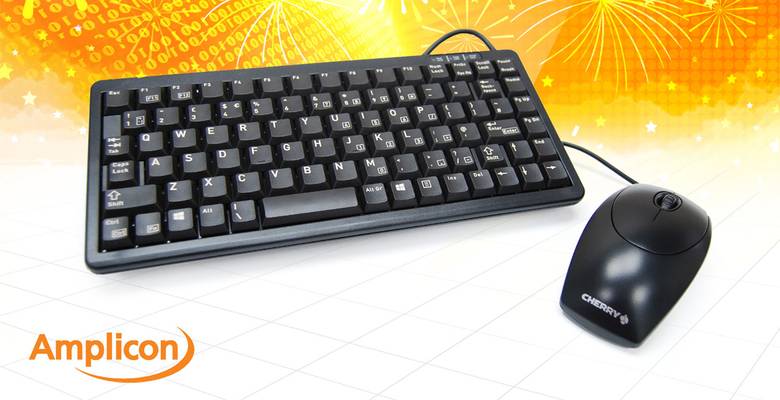 15th August 2018
End of Year video competition winners announced!
To celebrate the end of another successful year, Amplicon ran an exciting competition with a fabulous prize to be won, a compact keyboard and an optical USB/PS2 mouse set!
For a chance to win this fantastic prize, customers were set the challenge of counting the number of England flags appearing in our humorous end-of-year corporate video. Despite sounding like an easy task, the hilarity of the Amplicon team's acting proved too much of a distraction for many, with just a handful of customers managing to account for every flag throughout the video.
We would like to thank all of you who took part in the competition. With an unprecedented number of participants, it was great to see so many of our customers both enjoy the video and taking their chances at winning.
Finally, we would like to send congratulations to all of our competition winners! Despite some questionable acting and hilarious sketches, participants still managed to keep their concentration and successfully provided the correct number of flags appearing throughout the video!
Here is what some of our worthy winners had to say:
Andrew McQuillen @Senstronics Ltd, said: "I watched the highly entertaining video with no thought that I would win the competition. When I got the e-mail telling me I had won, I could not believe my luck it was a lovely surprise. Thanks to all at Amplicon for brightening my day, twice."
Brett Anstee @SMR Automotive said: "I was delighted to find out I had a prize. I must have watched the video at least five times to ensure I counted the correct number of flags, and each time it made me laugh out load. Brilliant marketing! It's good to see a business with a sense of humour."
David Sweetman @Thales Group said: "I was quite surprised and pleased to hear the news; I will put them to good use."
Mark Milne @Cubic, said: "I do not enter many competitions but was attracted to the challenge of watching a video and counting the flags. I must confess I did watch the video twice to see if I had missed any. An engaging experience and very happy that I came second. Looking forward to your next competition and a tough act to follow.
Michael Aspaturian @EDF Energy said: "I really enjoyed the competition, it was fun and humanised your company. All I can say is thank goodness you guys are much better suppliers than you are actors :) It is always a pleasure dealing with Amplicon."