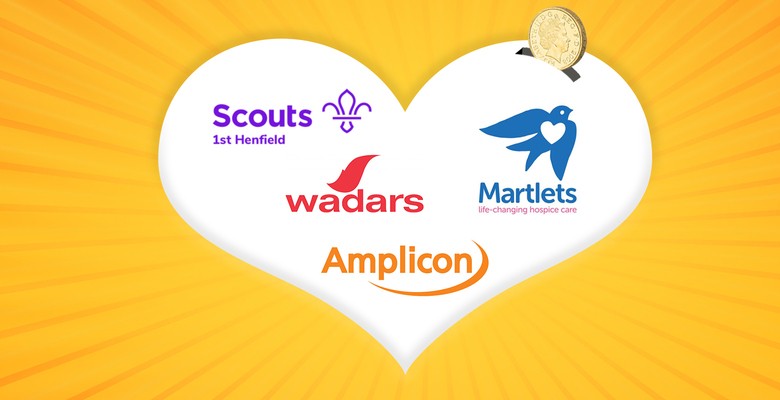 4th August 2020
Amplicon raises over £4K for local charities
Amplicon has always been very passionate about supporting the community through charitable giving. Each year the company chooses various local charities to support, this year Amplicon supported Martlets, 1st Henfield Scout and Wadars to help ensure they can continue to survive and thrive.
In 2019/20 Amplicon has raised an outstanding £4,120. This fantastic donation has been collected entirely through the sales teams' hard work and determination; for every £10,000 order booked, they receive a 'big order token', which is equivalent to £10. They have the choice to donate the token to one of the three chosen charity boxes.
Despite the difficult times faced in this year, Team Amplicon has come together and worked even harder to push the business through these hard times. The sales team has powered through and demonstrated persistence and a strong performance. Amplicon is delighted to have raised such a high amount in the current unforeseen circumstances.
This original fundraising initiative, which has been running for the past 6 years has already raised nearly £20,000 for local charities supporting different projects across Sussex and offering help to communities that need it the most.
"It's wonderful news that Amplicon has been raising funds for our charity and I'm glad that another of our old scouts remembers and values the time he spent in the Troop. Darren Saxby (sales manager) was a scout at 1st Henfield when I was Troop Leader and he went on to achieve his Queen's Scout Award, which is the highest award a scout can earn.
The funds donated by Amplicon will be used to replace the Henfield Scout Hut. In May 2021, we will begin constructing a Scout Community Centre that can be used by all of the clubs in Henfield, alongside the Scout Group. Once again, thank you and your staff for Amplicon's generous donation to our charity, we are very grateful." David Malkin. Secretary, HSCC Building Appeal/The Clarkes Mead Trust.
"Amplicon colleagues have been supporting Martlets for many years and we are so grateful for this commitment. This year the efforts of the Amplicon team has resulted in a donation that's double what was raised last year. We're blown away by your efforts! Heartfelt thanks on behalf of the patients and families that will benefit from your wonderful support." Imelda Glackin, CEO, Martlets.
"These are very difficult times for us, with a 48% loss in revenue and a significant increase for our services, so the support from companies such as Amplicon is vital. We are so grateful that Amplicon has chosen us and are overwhelmed by the donation a phenomenal £900. Thank you!" Sophia Wilks, Fundraising & Volunteer Co-ordinator at Wadars.