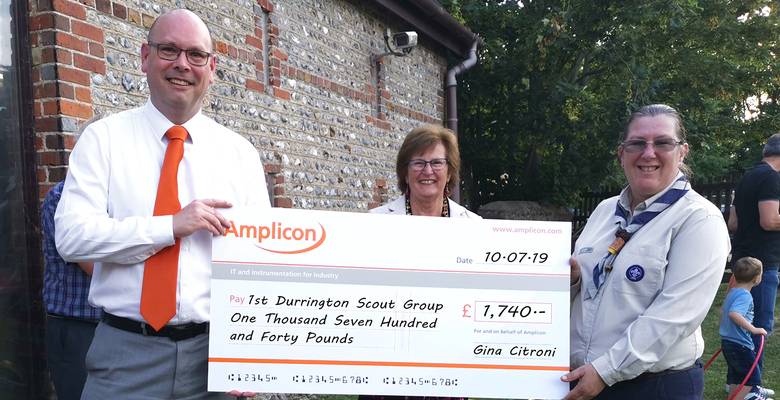 24th July 2019
Amplicon raises £2,880 for three fantastic local charities
At Amplicon we are committed to supporting charitable causes that will improve the quality of life of the most vulnerable in the Brighton area. In the past few years we have supported more than 15 different local charities and we pride ourselves in coming up with creative ways of raising money, through sales-driven donations, inter-company baking competitions, annual charity football matches, charity dog walks and even a pampering day!

Our sales team play a crucial role in our fundraising schemes. For every £10,000 order booked they receive a £10 token; they have the choice to donate the money to one of the three annually chosen charity boxes.

Throughout this year we supported three new charities, the Dogs Trust, 1st Durrington Scout Group and The Martlets. Each of these charities are close to our hearts and have been chosen for the amazing work they do and the impact they have in our community.

Thanks to the hard work and determination of our sales team during our 2018/19 financial year we have managed to raise £2,880, helping to provide valuable resources that will be used to improve the lives of others.

This original fundraising initiative, which started back in 2016 has already raised over £13,000 for local charities, supporting different projects across the local area and offering help to communities that need it the most.

Sharon Field, Group Scout Leader at 1st Durrington Scout Group said: "On behalf of the Beavers, Cubs, Scouts, Leaders and parents at the 1st Durrington Scout Group, I would like to thank you for the generous donation of £1,740 made by your company.

The money will enable us to provide equipment and other extras for all the young people that we have the pleasure to have fun with each week. Please convey our thanks to Richard Munson for nominating the Group as his charity for the year. Once more, our sincere thanks for your generosity."

Emma Knight, Head of Partnerships and Major Donor Giving said: "Amplicon's commitment to supporting Martlets as one of the staff's chosen charities each year is humbling. Through their sales-driven fundraising they engage their teams with local charities and raise significant sums for Martlets. The money raised directly helps local people do the things they love with the time they have.

Team Amplicon directly support the provision of life-changing hospice care in and around Brighton & Hove; giving people living with terminal illness dignity and care as well as supporting families coping with bereavement. Thank you Amplicon for this most recent donation of £700! Your support helps change lives. #TeamMartlets".