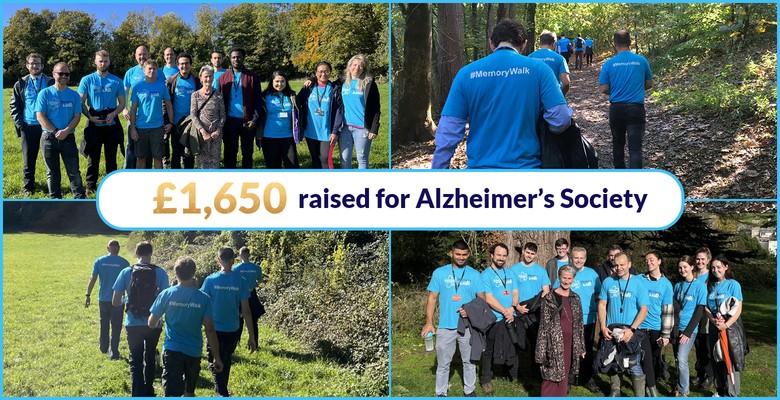 1st November 2022
Amplicon Memory walk raises £1,650 for local charity
During the month of October, Team Amplicon have walked their way to an impressive £1,650 for Alzheimer's society, a charity providing care and support for those suffering with Dementia.
Over 30 Amplicon employees volunteered to take part in this charitable event, which consisted of going out for three-mile walks at lunchtime every Tuesday and Thursday. The walks were led by Amplicon CEO Gina Citroni and her Jack Russell, Pippa. They are both experienced walkers familiar with the routes and footpaths in the surrounding area. The team had the opportunity to explore different beautiful trails set across the stunning South Downs just North of Brighton and the home of Team Amplicon
By the end of the month, the Team had managed to raise an amazing £1,650 and walk over 250 miles collectively. To celebrate this amazing achievement and everyone's commitment to the cause, Amplicon hosted a special celebration lunch on 25th October to mark the successful conclusion of the fundraising.
It is predicted that by 2025, one million people will be living with dementia in the UK, and many millions more carers, partners, families and friends will be affected. The lack of treatment means people with dementia and their families cannot get the support they need; but with thanks to the Alzheimer's society, people struggling with all types of dementia receive advice, care and support.
Megan Guy, Alzheimer's Society Community Fundraiser for East Sussex, said: "We're so grateful to everyone at Amplicon for stepping up with their walking challenge to ensure people affected by dementia in the county continue to get the support they need, when they need it most.
"There are 3,000 living with dementia in Brighton and 26,500 people across Sussex and too many are facing it alone. We support people affected by all types of dementia through some of the hardest and most frightening times. Whoever you are, whatever you're going through, you can turn to us for practical advice, emotional support, and guidance.
"Our amazing supporters, like Amplicon go above and beyond to raise vital funds and awareness for people living with dementia. With their support we can help more people and use cutting edge research and influencing to push for breakthroughs that'll changes the lives of people affected by dementia, now and in the future."
please donate to our JustGiving page here.