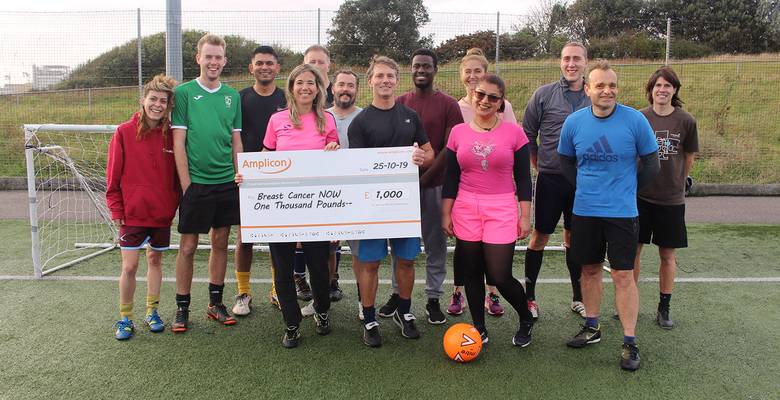 30th October 2019
Amplicon football fundraiser raises over £1000 for Breast Cancer Now
On Friday 25th October, Brighton based computer manufacturer Amplicon held a football fundraising event raising money for Breast Cancer Now, the UK's largest breast cancer charity dedicated to providing world-class research and life-changing care for anyone diagnosed with breast cancer. They help individuals deal with both the physical and emotional impacts of the disease. The event has raised an outstanding £1000.
For the past 4 years, Amplicon has hosted this charity fundraiser, raising over £5000 to fund much-needed cancer research projects. Each year, the event has been an amazing success which is why Amplicon has continued with the fundraiser. This type of event brings Team Amplicon closer together and gives everyone the chance to let their hair down outside of work and enjoy a bit of competitiveness on the pitch. This year, the 5-aside football fundraiser consisted of 13 participants who were split into two teams.
The match kicked off at 4:00pm and lasted for approximately one hour. The game was great fun as always, everyone got stuck in despite the dreadful weather. By the end of the game, it was a 6 all draw, with honours being shared equally!
In 2019, Breast Cancer Care and Breast Cancer Now merged. The merger has created the UK's first comprehensive breast cancer charity. The two individual charities believe that they could achieve more by joining together, and will create a stronger force helping those affected by breast cancer.
The charity believes that by 2050, everyone diagnosed with breast cancer will survive and be supported to live well. Giving back to the community is a key part of the Amplicon ethos which is why they will continue to support this remarkable charity, helping them to reach their goal by 2050.
Miriam Bernal, Marketing Manager at Amplicon and organiser of the event said: "This cause is very close to my heart and I have been organising the Amplicon charity match since 2015. It's overwhelming to see so many colleagues, friends and family come together to help find a cure for breast cancer."
Summer Kendrick, Mass Participation Manager at Breast Cancer Now said: "We'd like to thank Amplicon for their continued support over the years and to all the players and sponsors who have donated so generously to Breast Cancer Now.
"We're truly grateful for the incredible funds raised from their annual charity football matches, which will help fund our vital work for all those affected by this devastating disease, providing support for today and hope for the future.
"Breast cancer is still the most common cancer in the UK with around 55,000 women and 370 men diagnosed with the disease every year. This is why it's so important to continue to raise funds throughout the year to help make world-class breast cancer research and life-changing care happen."