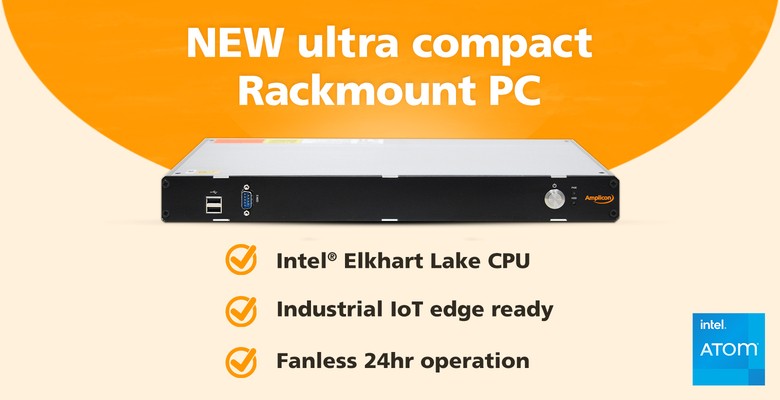 3rd November 2022
Amplicon expands its ultra-short depth range with its most powerful Intel Atom PC yet
Amplicon, the UK market-leading manufacturer of industrial computers has introduced the Impact-R 1210F series, a completely fanless PC built in an ultra-short depth chassis powered by the powerful Intel's Elkhart Lake processors,
Designed for industrial applications, the new Impact-R 1210F utilises Intel's first processors specifically designed for IoT and edge applications, the Intel Elkhart Lake family of low-power SoCs. These processors build on new levels of CPU and graphics performance with integrated IoT features, real-time performance, manageability, security, and functional safety.
The Amplicon Impact-R 1210F series stands out for its extensive I/O capabilities, allowing to connect a vast number of remote I/O devices. In addition to supporting PC-specific interfaces such as 2.5Gb Ethernet, Serial and Wi-Fi, PCIe 3.0 x2, DisplayPort, eDP, HDMI, and USB, it also supports UFS 2.0, eMMC 5.1, SD, and SPI/eSPI interfaces that are common in edge applications.
The new series of Impact-R rackmount computers come in a fanless and ultra-short depth design, saving valuable rack space that can be used to install additional equipment making them ideal for applications where space is at a premium.
Joe Davies, Senior Product Specialist at Amplicon said: 'The Impact-R 1210F series is a worthy successor to the Impact-R 1110F series, taking the already tried and trusted design and adding in the latest Intel Atom technologies to give our customers an IoT edge ready system in a rack mountable format'.
Read more about the new Amplicon Impact-R 1210F