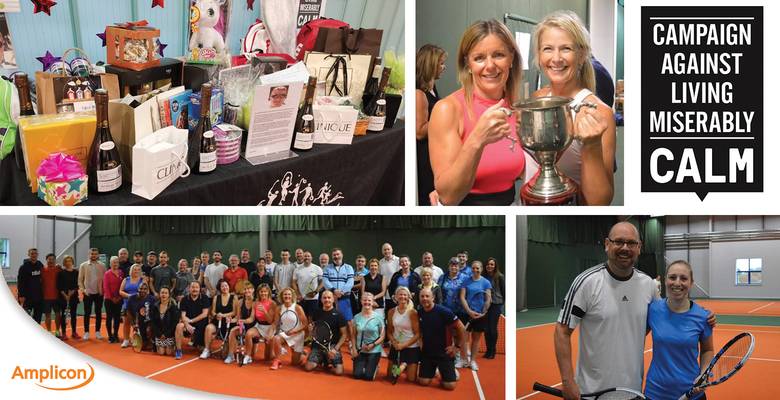 23rd October 2019
Amplicon Donates Toward the Dan Legg Memorial Tennis Event
On October 5th, the Dan Legg Memorial Tennis Tournament was held at David Lloyd club in Worthing to help raise money for CALM charity (Campaign against Living Miserably)
CALM is an award-winning charity dedicated to preventing male suicide by helping men who are in crisis or fighting depression. Suicide is the single biggest killer of men under 45 in the UK and the cause of 18 deaths every day.
The event is run by Dan Legg's mother, Ruth Dekkers, and this was the fourth tennis tournament held in memory of Dan, and this year's event raised an outstanding £5,159.25 which has been the best year to date!
Richard Munson, one of the Amplicon sales managers, has been participating in the event for the past 3 years. Richard met Dan Legg's parents Ruth and Mark Dekkers through his membership at David Lloyd
In the tennis tournament, there was a total of 44 players participating which made up 15 teams who were each competing to win the Dan Legg trophy. Richard Munson and his doubles partner, Charlotte Kilbey went on to win one game!
To keep up the fun-filled day in memory of Dan, there was a BBQ available for everyone after the tournament, along with a late license and DJ until midnight. There was also a raffle and Amplicon donated 6 bottles of sparkling white wine, among the other amazing donations there was a 10 day getaway to a villa in Spain which Richard Munson was pleased to win!
The tennis tournament was a great success! Congratulations to Sue Scrimgour, Sam Hesling and Patrick Purcell who are the 2019 winners of the Dan's trophy.
Caley King, organiser of the tournament commented: "Every donation has been greatly appreciated as it has put towards such a worthwhile cause to help increase awareness for suicide and mental health. I have really enjoyed organising this year's event, it's great to meet new players and see everyone playing tennis and socialising together, there was lots of laughter and team camaraderie. I would like to personally thank Amplicon for the raffle prizes donated. The bottles of wine went down a treat with the raffle winners!"