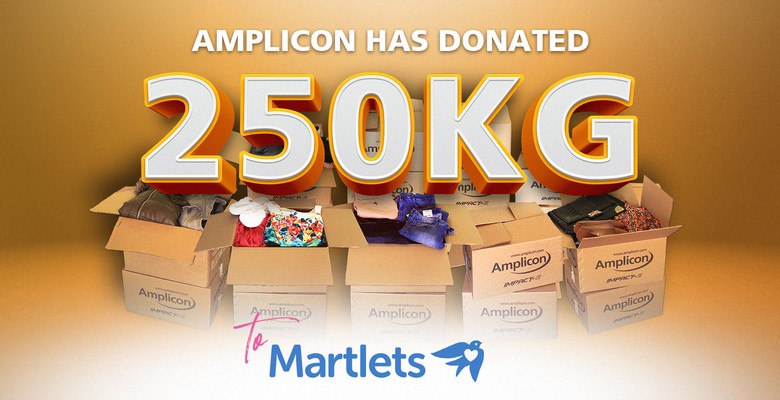 1st September 2022
Amplicon donates a staggering 250Kg of clothing to Martlets!
Team Amplicon have collected an outstanding total of 250Kg of clothes and other items to be donated to Martlets, a local charity that provide essential services to people affected by terminal illness.
From socks to handbags, everyone at Amplicon pooled their resources to reach this impressive total. This direct support means that the much-loved local charity can help realise additional funds, whilst maintaining a low carbon footprint by taking a single delivery from Amplicon
This initiative, which has been running at Amplicon for over 10 years consists of inviting all team members to bring in their unwanted clothing to work; this is then stored in the warehouse until there is a sizeable quantity, which can be taken to Martlets
With these donations, Team Amplicon has prevented clothes from ending up in landfills and provided alternatives to fast fashion by giving their old clothes a new life. In addition to helping the environment, these donations enable Martlets to continue their mission of providing life-changing hospice care throughout Brighton and Hove.
For over 20 years, Amplicon has been a proud supporter of Martlets. Their work improving the quality of life for people dealing with terminal illnesses has now helped over 25,000 local people. However, they are only able to achieve this valuable work with the help of volunteers and donations.
If you want to join our efforts raising money by donating clothes, please visit the Martlets website here.