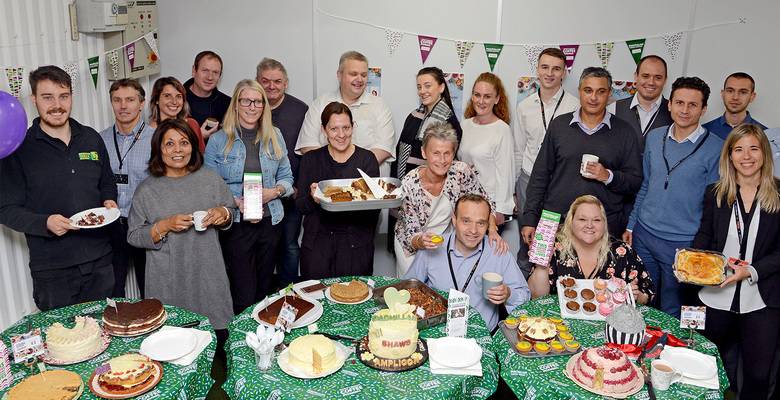 3rd October 2018
Amplicon Baking Challenge raises £1000 for Macmillan Cancer Support Amplicon
Amplicon, proud supporter of Brighton & Hove local charities has raised £1000 for Macmillan Cancer Support, a worthy charity dedicated to helping and advising those living with cancer.
To support the vital work Macmillan does and the World's Biggest Coffee Morning charity event, Amplicon invited all businesses operating in the Centenary Industrial Estate to participate in an exciting baking challenge.
With a minimum donation of £50, all companies participating in the event were entitled to submit up to three cakes for their chance to win two bottles of prosecco and a mouth-watering box of Thornton's chocolates. The Argus Event Manager Tina Daniels independently judged and scored the entries based on three criteria: Taste, Originality and Appearance.
The initiative generated a fantastic response with most companies in the Estate getting involved and more than 15 bakers rising to the cake challenge.
The Amplicon Baking Challenge took place at the Amplicon headquarters, where participants gathered at 09:30 to assist the judging and cake sampling, followed by morning coffee and a piece of cake.
The winners of the Amplicon Baking Challenge are:
1st place: Christine Mercer, Credit Control at Shaws
2nd place: Emma Field, CAD Technician at AJ Taylor Electrical
3rd place: Miriam Bernal, Marketing Manager at Amplicon
Following the judging and cake sampling, all of the delicious baking entries went on sale along with exciting fundraising games played in the office to raise as much money as possible for this great cause.
Amplicon extends its heartfelt thanks to AJ Taylor Electrical, Brighton Tools and Fixing, Brighton Sunblinds and Shaws for supporting this fantastic idea, submitting generous donations, and making the effort of finding the time to bake for this worthwhile cause.
Gina Citroni, CEO at Amplicon commented: "We do something for Macmillan each year and this time we thought it would be good to invite other businesses on our estate. We have all had people near and dear to us who have received wonderful support from Macmillan when they have been diagnosed with cancer. It is so reassuring to know that those with cancer can enjoy the comfort the charity provides.
Sarah Coxhill, Senior Fundraising Manager at Macmillan commented: "We're thrilled to see such a huge amount raised on World's Biggest Coffee Morning by Amplicon! Thank you for your outstanding effort organising the baking challenge with other businesses on the industrial estate. Local businesses play such an important part in our fundraising, and raising awareness of how Macmillan supports those facing cancer. We want to reach everyone but can only do that with support like this; thank you."